Limited edition Harry Dresden's Pentacle set with Demonreach Opal. 
Harry Dresden's Pentacle was passed down to him by his mother, Margaret LaFay . This special edition pendant is set with a Demonreach Opal. The pentacle has the power to repel certain creatures of the Nevernever and glows with a low blue light when infused with Harry's will. Inspired by The Dresden Files by Jim Butcher.
Details: The Demonreach stone is a man made black opal with green and blue fire.  The Pentacle is solid sterling silver and measures 38 mm in length including bail, 32.5 mm wide, 2.5 mm thick at the pentacle, and 3.4 mm thick at the stone. The pendant weighs 11 grams. The back of the pendant is textured and stamped with our makers mark, copyright, and metal content - sterling.
Chain Options: 24" long stainless steel rope chain, 24" black leather cord (additional $5.00), or 20" 1.2 mm sterling silver box chain (additional $25.00).  Additional chains are available on our accessories page.
Packaging: This item comes packaged in a jewelry box with a card of authenticity.
Production: We are a made-to-order company. Your order will ship in 5 to 10 business days if the item is not in stock.
---
"The Dresden Files", and the characters and places therein are copyrights of Jim Butcher, Imaginary Empire LLC, c/o Donald Maass Literary Agency.  All Rights Reserved.
Customer Reviews
07/07/2020
Alice M.
Canada
Beautiful & Solid
I've not worn much more than my wedding ring in the last 20+ years, tho previously I wore ALL THE JEWELRY ☺. I'd been wanting a Dresden Pendant for for many years but would I actually wear it? A few months ago I bought a small Ankh necklace from Badali and loved it & I've worn it every day since. When my birthday came the end of April and I had been hinting to the hubby - but alas he didn't pick up on it so I had to bought it for my own birthday. It arrived in very responsible time and let me tell you - it's absolutely beautiful. And it's a SOLID piece of jewelry. It has some weight to it, in a good way. I'm not worried about bending it out of shape like Harry's. Also I went with the standard chain, which is also a solid piece, & I'm not worried it's going to easily break so I wear it 24/7. If you were like me and were on the fence - let me tell you it's so very worth it!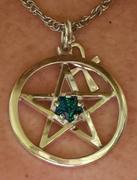 07/05/2020
Matthew W.
United States
07/04/2020
James A.
United Kingdom
07/03/2020
William H.
United States
Pentacle Necklace
I was very pleased with the necklace. In fact it was lager that I was expecting. Well worth the money.
07/01/2020
Bubba T.
United States
Exactly as expected!
Beautifully crafted man made gem in a sterling silver pendant! Looks like pictures!