Harry Dresden's Pentacle is set with Margaret LaFay's  ruby. The pentacle has the power to repel certain creatures of the Nevernever and glows with a low blue light when infused with Harry's will. Inspired by The Dresden Files by Jim Butcher.
Details: The Ruby is a lab grown ruby with a faceted star on the top of the stone.  The Pentacle is solid sterling silver and measures 38 mm in length including bail, 32.5 mm wide, 2.5 mm thick at the pentacle, and 3.4 mm thick at the ruby. The pendant weighs 11 grams. The back of the pendant is textured and stamped with our makers mark, copyright, and metal content - sterling.
Chain Options: 24" long stainless steel curb chain, 24" black leather cord (additional $5.00), or 20" 1.2 mm sterling silver box chain (additional $25.00).  Additional chains are available on our accessories page.
Packaging: This item comes packaged in a jewelry box with a card of authenticity.
Production: We are a made-to-order company. Your order will ship in 5 to 10 business days if the item is not in stock.
---
"The Dresden Files", and the characters and places therein are copyrights of Jim Butcher, Imaginary Empire LLC, c/o Donald Maass Literary Agency.  All Rights Reserved.
Customer Reviews
03/04/2020
Alan L.
United States
Great piece of jewelry
My wife and I are both avid Dresden fans and this was a great gift for her birthday. It even showed up well before I expected it.
02/21/2020
Matthew W.
United States
Love
My pentacle was purchased for me by my mother and I absolutely loved it i wore it everyday. That being said I have been in a slump recently as it fell off the chain at somepoint and i have yet to locate it.
02/19/2020
Mike W.
United States
She likes it!
Sweetie and I are waiting for Harry Dresden #16, this was a V-Day gift, just to tide her over so to speak. She has worn it every day since, it looks most VERY excellent. Nice work folks!
02/11/2020
Brenna
United States
Truly amazing
This is so much more beautiful in person. I had gotten the white bronze pentacle as a gift from a friend. I promised myself the upgrade to sterling. I was finally able to get it and I am so pleased I got the ruby as well. It is a beautiful piece of art that reminds me of a wonderful book series and my wonderful friends.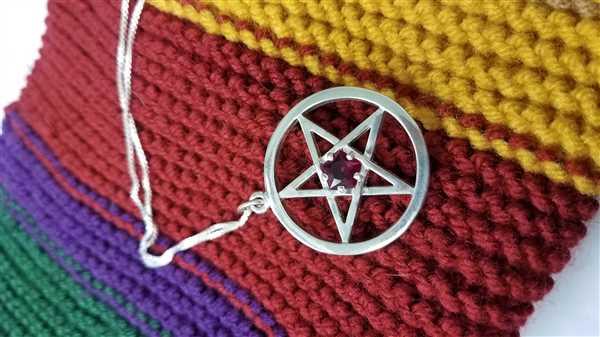 02/02/2020
Katrina D.
United States
Harry Dresden's Pentacle Necklace with Ruby
Very beautiful piece. My husband loved it. He is a huge Jim Butcher fan.