Bob the Skull is a smart-mouthed spirit entity living in a skull who has been in the possession of powerful wizards since the dark ages and his personality adapts to suit his current owner. Currently Harry Dresden has Bob's skull and so Bob assists Harry with making potions, preparing difficult rituals, or providing useful information - as long as Harry pays him with a spicy romance novel or some free time out of the skull. Bob's essence is visible as an warm orange light, which often fills the eye sockets of his skull. The rarely seen "Evil Bob", the personality Bob took on while owned by Heinrich Kemmler , appears as a cold blue light and lacks "Good Bob's" sense of humor.
Details: Bob the Skull is solid sterling silver and is three-dimensional and finished on all sides. The inside of the skull is carved out, like an actual skull. The surface of the skull is engraved with magical symbols and runes. The bottom of the skull is stamped with our makers mark, copyright, and the metal content - STER (sterling). Bob measures 17.5 mm tall from bail to chin, 7.9 mm wide, and 12.7 mm at the thickest point and weighs 4.3 grams
Eyes/Gemstone Options: Orange cubic zirconia (Good Bob), or blue cubic zirconia (Evil Bob).
Chain Options: 24" long stainless steel curb chain, 24" long black leather cord (additional $5.00), or 20" 1.2 mm sterling silver box chain (additional $25.00).  Additional chains are available on our accessories page.
Also available in gold -  click here to view.
Packaging: This item comes packaged in a jewelry box with a card of authenticity.
Production Time: We are a made-to-order company. Your order will ship in 5 to 10 business days if the item is not in stock.
FOR MORE DRESDEN FILES JEWELRY CLICK HERE.

---
 "The Dresden Files", and the characters and places therein are copyrights of Jim Butcher, Imaginary Empire LLC, c/o Donald Maass Literary Agency.  All Rights Reserved.
Customer Reviews
01/08/2020
Stephen C.

United Kingdom
A Truly Magical Skull
I had the chain on this item shortened to suit how I wanted to wear it, and even the jeweller who did the shortening commented on how nice it was! For such a small item it's amazing how much detail there is carved into this, and the crystals in Bob's eyes really catch the light. I'm delighted at how well Badali have brought yet another item from a well crafted fantasy world with a well crafted piece of jewellery. Bob the Skull was well worth the wait. <3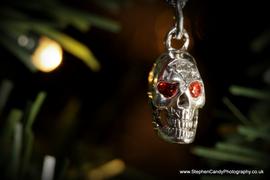 06/16/2020
William G.

United States
Fantastic, except for chain
I bought this for my wife and the actual skull is wonderful! The detail is great and the design is just as described. My only issue with this, and I might not even say it's with the Bob necklace, is that within a week of having this with the silver box chain, the chain has already become tarnished. I need to have it cleaned already. If this continues to tarnish this easily, I might have to change out the chain for something different. Otherwise, great necklace!
06/18/2020
Badali Jewelry
William - we would be happy to send you a titanium chain that is 24" long that will not tarnish. Some of us tarnish jewelry faster than others. The titanium will continue to be shinny. Please let us know. Alaina
04/14/2020
Clarissa C.

United States
I love my tiny Bob
Very nicely made piece of jewelry, came much faster than I expected, and was very nicely packaged