Harry Dresden wears the Shield Bracelet on his left hand and is seldom seen without it. The bracelet features six shield shaped charms, each bears a Medieval symbol: a heraldic lion, a dragon, an ornate Fleur-de-lis, a Celtic cross, a phoenix, and a more simple Fleur-de-lis. Harry Dresden has had multiple versions of his Shield Bracelet throughout The Dresden Files series; this is the first shield bracelet he made.
Details: The charms are hung on a stainless steel bracelet. The shields, from left to right, measure as follows:
Lion - 26.6 mm long, 18.7 at widest point and 1.6 mm thick.
Dragon - 27.3 mm long, 17.2 at widest point and 1.6 mm thick.
Fleur-de-lis - 26.8 mm long, 19 at widest point and 1.6 mm thick.
Celtic Cross - 32.1 mm long, 17.5 at widest point and 1.6 mm thick
Phoenix - 26.5 mm long, 18.5 at widest point and 1.5 mm thick.
Fleur-de-lis - 25.3 mm long, 17.5 at widest point and 1.4 mm thick.
Dresden shield bracelet weighs 47.3 grams with sterling silver charms, 39.6 grams with white bronze charms. The back of the charms are textured and stamped with our makers mark and copyright. The silver charms are stamped with the metal content - sterling.
Metal Options: Bracelet charms in Sterling Silver or White Bronze.
Bracelet Length Options: Available in 7", 8" (additional $1.00) or 9" (additional $2.00).
Packaging: This item comes packaged in a jewelry box with a card of authenticity.
Production: We are a made-to-order company. Your order will ship in 5 to 10 business days if the item is not in stock.
---
"The Dresden Files", and the characters and places therein are copyrights of Jim Butcher, Imaginary Empire LLC, c/o Donald Maass Literary Agency.  All Rights Reserved.
Customer Reviews
06/19/2020
Robert S.

United States
Harry Dresden Shield Bracelet
Great experience. Product came right away. It is very nicely crafted with a solid clasp. Called them about another item I hoped they would make some day and they were very sophisticated in their craftsmanship and extremely cordial. If all businesses were like this one the world would be a better place.
10/16/2020
Lee M.

United Kingdom
Dresden shield bracelet
My experience with this company was amazing and they kept in contact with me to assure me what was happening with my item and when. I also got a free gift. The item itself is beautiful is well made and grafted picture perfect. I even took pictures of the item.and posted it to my Instagram tagging the company to which all my friend were impressed with the item too.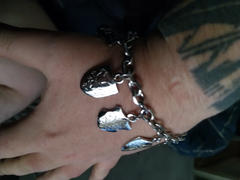 03/07/2020
Chavi K.

United States
Cool!
Love the craftsmanship. It's a bit noisy, but that's to be expected with all the shields.