Inspired by The Lord of the Rings trilogy by J.R.R. Tolkien, Paul J. Badali created Seven Rings as given to the Dwarves by Sauron. The Dwarven Rings of Power are engraved with Elder Futhark runes promising riches and treasure to those who wear them.
Details: The Dwarven/Dwarf runes are sterling silver and hand finished with a red enamel paint and set with 10mm round stone. The ring measures 19.9 mm wide and 6.4 mm thick. The band measures 4.6 mm wide and 1.2 mm thick and the ring weighs approximately 23.8 grams - weight will vary with size. The inside of the band is stamped with our makers mark, copyright, and sterling. 
The Futhark Runes on the top of the ring read:
AKSI OG HAMAR ALDREI BRUT
"Axe That Never Dulls, Hammer That Never Breaks"
The Futhark Runes inside the band read:
BUSTADUR UNDIR FJALSHID, FULUR AF GUL OG DYRGRIPUR
"Halls Under The Mountains, Filled With Gold And Treasure"
Stone Options:  Diamond (cubic zirconia), Ruby (lab grown corundum), Sapphire (lab grown corundum), Emerald (green cubic zirconia), Amethyst (purple cubic zirconia), Topaz (yellow cubic zirconia), or Blue Zircon (lab grown spinel). 
Size Options: The Sauron Dwarven Ring of Power is available in US sizes 10 to 15 in whole and half sizes (Quarter sizes are available upon request. Please add a note in your order or email us for verification). Sizes 15.25 and larger are available for an additional $30.00, please contact us for details.
Packaging: This ring comes packaged in a ring box with a Card of Authenticity.
Production: We are a made-to-order company. Your order will ship in 5 to 10 business days if the item is not in stock.
---
"Sauron"

 and The Lord of the Rings and the characters, items, events and places therein are trademarks of Middle-earth Enterprises, LLC used under license 

by

 Badali Jewelry.  All Rights Reserved.
Customer Reviews
Worth it.
Well crafted finely detailed ring.
03/08/2022
Shannon R.

United States
Exceeds Expectations
This ring is beyond beautiful! The amethyst sparkles beautifully and the rune writing is well done. As all the items I've purchased from them on Etsy, this is well made and sturdy. It's nicely heavy as you would expect a dwarven ring to be. I will most certainly be getting more!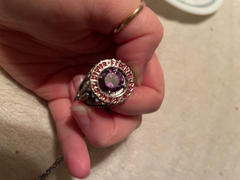 06/17/2020
Kenneth H.

United States
Power from a ring?
Yes. The answer is yes. While wearing this ring, I yeeted an Atlas stone into orbit along with the Nazgul. The quality of this ring is far beyond expectations. Gimli would be proud.