The element of earth symbolizes a grounded, dependable, and trustworthy individual. The Earth Element ring features vine-like designs across the band. The ring is hand finished with rich green enamel.
Details: The Lady's Elven Earth Band is sterling silver and measures 10 mm at the front of the band, 5.9 mm at the back of the band, and 2 mm thick at thickest point. Weighs approximately 5 grams, weight will vary with size. The inside of the band is stamped with our makers mark, copyright, and metal content.
Size Options: Available in US sizes 4.5 to 9, in whole and half sizes.
Also available in 14k gold - click here to view.
Packaging: This item comes packaged in a ring box.
Production: We are a made-to-order company. Your order will ship in 5 to 10 business days if the item is not in stock.
Customer Reviews
01/19/2021
Jo J.

United States
A Wonderful Ring
I purchased this ring in 2003 or 2004 and it has been my absolute favorite ring. It is well crafted and incredibly durable. I haven't taken it off more more than a couple hours the entire time I've had it. I highly recommend adding this piece to your collection. Take a look at the picture, it looks like I just purchased it a month ago. :)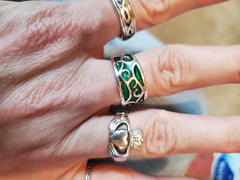 07/23/2020
Bob B.

Australia
A sparkling ring
I buy these items for my wife who is the greatest fan of LOTR. The thoughtful design work and the excellent craftsmanship of each item of jewellery makes it something to be cherished. I would like to point out that with the exchange rate between $Aus and $US being heavily weighted against us we have to pay about 50% more in actual dollars. Still it is worth it. Each item is speedily dispatched and very well packaged and. in these uncertain covid times, having opted for UPS delivery, we have the jewellery in under a week. Excellent. The Elven ring is crafted to perfection and she loves it and having worn it today my wife has already had people admire it and ask after where it came from. Thank you Badali.