Glyphs are a symbolic language from The Stormlight Archive series by Brandon Sanderson. Each of the glyphs are associated with a specific Herald, gemstone, essence, body focus, soulcasting property, and divine attribute.
The Jeseh glyph is associated with the Herald Jezerezeh'Elin, the gemstone sapphire, the essence is Zephyr, and body focus of Inhalation. The soulcasting properties for Jeseh are Translucent Gas and Air. Its divine attributes are Protection and Leading. Jeseh is believed to be associated with the Windrunners, an order of the Knights Radiant who used gravity and atmospheric pressure Surgebinding.
Details: The Windrunner pendant is sterling silver with sapphire blue enamel and measures 29.2 mm long, 21.7 mm at the widest point, and 1.9 mm thick. The glyph weighs 5 grams. The back of the pendant is textured and stamped with our makers mark, copyright, and metal content - sterling.
Chain Options: 24" long stainless steel curb chain, 24" black leather cord (additional $5.00), or 20" 1.2 mm sterling silver box chain (additional $25.00).  Additional chains are available on our accessories page.
Also available in antiqued sterling silver - click here to view.
Packaging: This item comes packaged in a jewelry box with a card of authenticity.
Production: We are a made-to-order company. Your order will ship in 5 to 10 business days if the item is not in stock.
---
Mistborn®, The Stormlight Archive®, and Brandon Sanderson® are registered trademarks of Dragonsteel, LLC.
J522-11 J522-12 J522-13
Customer Reviews
01/10/2021
Vivienne S.

Denmark
If you want subtle Stormlight jewelry for everyday wear this is it!
I got this pendant and the sterling silver box chain for Christmas. It is really really pretty! Amazing craftmanship! I have a couple other SA jewelry already but this one is definitely my favorite.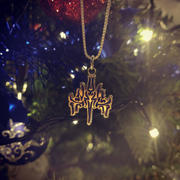 03/22/2020
Isabella J.

Germany
Beautiful gift
I got this glyph from my boyfriend as a Christmas gift and I've worn it ever since. It's beautifully made and I absolutely love it.