Nenya is described as being made of Mithril, a silver colored precious metal. Nenya features the leaves from the trees of Lothlorien which Tolkien described as looking like Beech tree leaves, Tolkien's favorite tree.
Nenya is also called the Ring of Adamant, from the old English word for diamond, and is set with a 1ct. Signity Star cubic zirconia, the CZ with the highest brilliance and quality on the market. Genuine opal and moonstone cabochon stones are also available - please contact us for more information.
Details: The ring is solid sterling silver and measures 8 mm from top to bottom and the back of the band measures 2.8 mm wide. Nenya weighs 4 grams - weight will vary with size. The inside of the band is stamped with our makers mark, copyright, and metal content.
Size Options: Nenya is available in in US sizes 4 to 15, in whole and half sizes (sizes 13.5 and larger are an additional $15.00).
A matching tracer band has been designed to fit on either side of Nenya.  We offer the tracer band(s) as a separate ring, or soldered and permanently attached to the main ring.

Stone Options: Default stone is Signity Star CZ. For those who prefer a colored stone we offer Emerald CZ, synthetic Ruby, or synthetic Sapphire.

When Frodo™ saw Galadriel's ring Nenya in the forest of Lorien™, the stone glittered and shone like it held a star from the heavens.  Your Nenya can be set with your own piece of the heavens, a Moissanite, the star born stone.  Discovered a century ago, Moissanite was a new mineral found in an ancient meteorite by Nobel Prize winner Henri Moissan.  It is a now a lab grown stone that has more shimmering brilliance, fire and luster than diamonds and has an incredible hardness.  We use only the best quality of Forever One Charles & Colvard Moissanite. 
Adding Moissanite to your Nenya is a custom upgrade and is non-returnable/non-refundable.

If you prefer a flat set stone, we offer Genuine Moonstone, Opal and Star Diopside for an additional fee.  Due to the nature of natural gemstones, variations will occur from the examples shown.  The placement of the eye in the moonstone or star diopside may not be perfectly vertical.
Also available in gold - click here to view -, platinum - click here to view -, and tracer band options - click here to view.
Packaging: This ring comes packaged in a ring box with a Card of Authenticity.
Production: We are a made-to-order company. Your order will ship in 5 to 10 business days if the item is not in stock.
---
"Nenya", "Galadriel", "Lothlorien", "Mithril", "The Lord of the Rings", and the characters and places therein, are trademarks of the Saul Zaentz Company d/b/a Middle-earth Enterprises under license to Badali Jewelry.  All Rights Reserved.
Customer Reviews
04/27/2020
George S.
United States
Absolutely Speechless
That's the effect my wife's engagement ring has on practically everyone who sees it. We've been married since 2006 and she STILL gets "oooh's", "aaah's", and "WOW's" to this day when people see it. It's not gawdy in any way, but people truly notice it without any attempt to show it off. Everyone asks about the exquisitely unique design because absolutely NO ONE has ever seen a ring like this. The craftsmanship is impeccable and the matching tracer band we used during our vows only makes the ring even more stunning. Skip the real diamond and get a Moissanite stone. It really does "pop" even MORE than a regular diamond and NOBODY will know the difference.
07/03/2020
Claire B.
United Kingdom
Beautiful Ring
The ring is absolutely stunning and fits perfectly. I got it with a moonstone as I wanted a flat setting and I love it. One small ****** I've only had it a week and the band is scratched on the underside but that's going to happen. One big ******, I knew it would take a while to arrive but the tracking information from USPS was ridiculous it had the item bouncing around the US, arriving in London, back in the US, back in London and so on. They also don't offer tracking information in the UK so although I knew it was in the country I had no idea when it was arriving. This is more to do with the courier service than the item itself though which I love!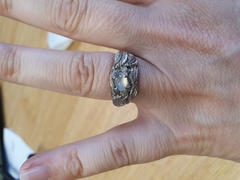 07/03/2020
Badali Jewelry
Thank you Claire. We are so glad you like your ring. Please let us know if you have any questions. The scratching on the bottom is due to wear, and is normal for most people. Just try and notice how you are using your hands during the day and you'll figure what you are hitting your ring on. However you can always have scratches buffed out at a local jeweler. Thank you for your order! We truly apologize shipping was CRAZY - not only for our customers but for us. Due to COVID packages were bouncing around, which was out of our control - but we tried to assist as best we could. If you prefer full traceability you can choose UPS or DHL.
MK
06/02/2020
Micha K.
United States
02/26/2020
Tyson D.
Canada
Nenya Ring
Ordering was great and easy and final product is amazing and beautiful. Thank you