Vin wears this simple earring throughout the Mistborn novels. The earring is the only memento Vin has from her mother. The nail stud is a silver plated bronze earring in the books, but our version is solid sterling silver for comfortable wear. The earrings are a hoop style, but the nails appear to go through your earlobes.
Details: The Gauge Style Vin's Earring is solid sterling silver and will fit an 8 gauge (3mm) to 6 gauge (4mm) sized ear hole. The nail measures approximately 19 mm top to bottom, 16.5 mm wide and 5.3 mm at the thickest point. The earring weighs 2.8 grams.
Options: Choose a single earring or a pair.
Packaging: This item comes packaged in a satin jewelry pouch with a card of authenticity.
Production: We are a made-to-order company. Your order will ship in 5 to 10 business days if the item is not in stock.
---
Mistborn®, The Stormlight Archive®, Bridge Four®, and Brandon Sanderson® are registered trademarks of Dragonsteel, LLC.

 

"Steel Alphabet" designs based on original character designs by Isaac Stewart.
Customer Reviews
04/20/2021
Emma E.

United States
Awesome!!
I gauged my ears specifically for this piece. I finally reached size 6G (4mm) and it fits loosely at the thickest point. It has a good weight to it and looks pretty dang awesome. Highly recommend!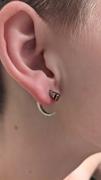 03/30/2020
Ashlea R.

United States
Beautiful piece
I'm in the process of gauging up my ears so this is a present to future me, but I really like the quality of it. I like that it's pretty smooth, so when the time comes I don't feel like it will be a struggle to put it in. The sizing looks pretty accurate. I compared it to my stretching kit and at the widest it's about a 6, and the portion where I feel I'll be wearing it is closer to an 8, though maybe a tiny bit bigger. I'm excited to see how I'll look with it in!